Zhuhai Gree Home Co., Ltd. was established in April 1992. It is a joint stock limited company incorporated by legal persons and natural persons established by the Guangdong Provincial Government. The registered capital is 250 million yuan and Zhuhai Gree Group Company is the holding company. In July 2009, a one-year natural person equity repurchase was conducted. The total share capital after repurchase was 234,353,034.00 yuan. Zhuhai Gree Home Co., Ltd. owns the grade A qualification of the national real estate development enterprise and has been relying on real estate development as its main business, with sound foundation and abundant talents. It has a number of subsidiaries including Zhuhai Gree Property Management Co., Ltd., Zhuhai Land Real Estate Development Comprehensive Service Co., Ltd., Zhuhai Wangjiao Department Store Development Co., Ltd. and Zhuhai Shicheng Development Co., Ltd. Since its establishment, the company has developed dozens of fine real estate and industrial parks, with a total construction area of nearly 2.5 million square meters. Among them, five estates have been awarded the title of "National Excellent Urban Residential Property Management Model Community" and have achieved good social and economic benefits.
In 2008, due to the successful backdoor listing of Gree Real Estate, Gree Home Co., Ltd. stopped the main business of real estate development in accordance with the regulations that the peers could not compete. For the development of the company, after a period of market exploration and investigation, and with the strong support of the Zhuhai Party Committee, Zhuhai Municipal Government and the Gree Group, Gree Home has established the development direction of the island tourism industry in 2009. In cooperation with Jiuzhou Tourism Group in December 2009, it invested 250 million yuan to establish Zhuhai Gree Island Investment Co., Ltd. to jointly develop the Lingding Coastal Project of Dong'ao Island. The current investment is 2 billion yuan, making Lingding Coast a sightseeing and leisure resort with sea sports, conference and training, senior clubs, and advanced sports fields, a world-class tourist destination with modern international coast, and a demonstration island for promotion of island tourism in Zhuhai City.

Zhuhai Gree Property Management Co., Ltd. is a large-scale professional property management company under the Gree Group. It was established in 1993 with a registered capital of 5 million yuan to manage property (for property management of residential areas, office buildings, industrial areas, commercial and residential buildings, etc.) as the main business, and also diversified operations (building decoration, water and electricity installation, elevator maintenance, etc.).
The company has five branch offices distributed in Zhejiang, Hunan and other cities in Guangdong Province. At present, the number of employees is nearly 1,000, and the company has its own teams of security, cleaning, greening, electrical and mechanical maintenance, engineering installation, and house maintenance. The company's property management area has reached more than 3 million square meters, and a number of management projects have been awarded the title of National Excellent Residential Property Management Model Community.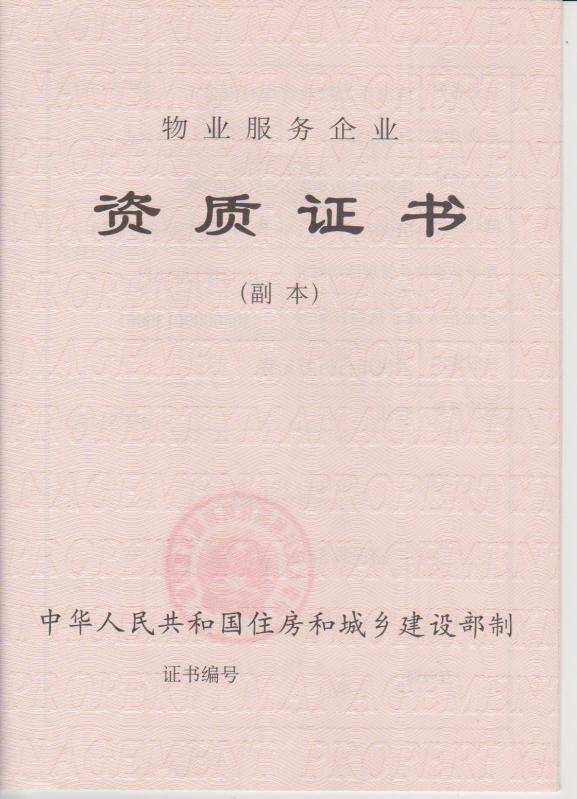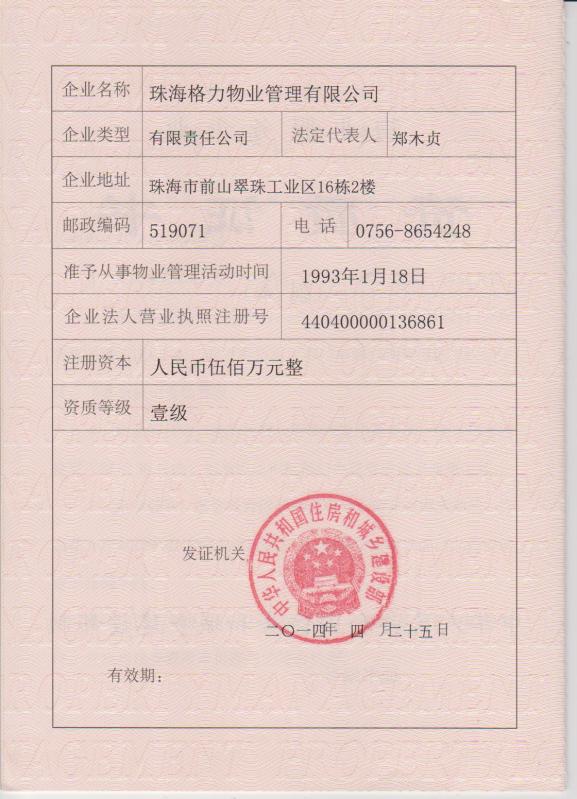 The company is a grade A enterprise of national property management, and is the vice president unit of the Zhuhai Property Management Industry Association. The company has obtained ISO9001:2008 quality management system certification. The staff team has high cultural quality and professional skills and can conduct comprehensive professional property management for different types of properties.
---
The items served are: